Child Resistant Packaging - CRP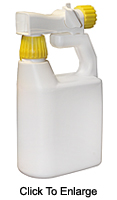 On November 2, 2007 the EPA approved the Green Garden Products Company K -1 CRP hose-end sprayer in conjunction with the Hub Plastics. Inc. bottles with CRP neck finishes as Child Resistant Packaging. This is the only hose-end package available with that designation for use with herbicides and pesticides.

Child resistant packaging and child safety is of paramount importance in our industry and Green Garden is proud to be the leader in this important accomplishment. We have enclosed copies of the EPA's approval of our CRP Child Resistant Packing along with the protocol used to achieve compliance to their requirements. Most notable was the tests for residue material in the sprayer throat when resealing partially consumed bottles of product and leakage. We successfully met a one-hundred percent acceptance rate on both of these tests as well as the ability of the package to prevent children from gaining access to the product.

Green Garden Products Company continues to be the innovative leader in the hose-end sprayer market including CRP child resistant packaging and by providing American made products of the highest quality and designed to meet your specific dilution ratios and water flows. Green Garden Products Company also will match your specific color requirements with complimentary bottles with CRP neck finishes from Hub Plastics, Inc.

As always Green Garden Products Company innovates to be your hose-end sprayer of choice. We look forward to serving your sprayer and child resistant packaging requirements.

Sincerely,

Wayne C. Faupel, President and CEO